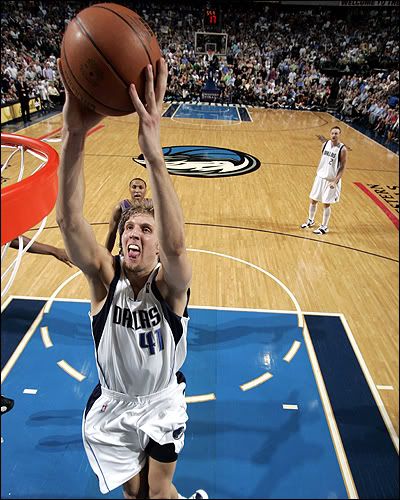 Michael Wilbon has a great column in today's Washington Post on how this year's NBA playoffs are the best of the post-Jordan (Bulls) era. I share his sentiments, as these are the first playoffs in all those years that I have enjoyed so much, with so many good games in so many good matchups. It's a sign in and of itself that I've watched most of these games on TV, whereas in years past the only series I remember watching were Kings-Lakers or the Finals (and not even all of the latter; Lakers-Nets? Yawn!)
Even with my hometown Washington Wizards being bounced by the Cleveland Cavaliers in a heartbreaking first round loss, it has been a competitive and entertaining month and a half thus far. The first round, usually not worth your time, produced good matchups in Bulls-Heat, Wizards-Cavs, and of course Lakers-Suns. Unlike years past, Wilbon notes, the absence of big players hasn't hurt the playoffs. No Kobe, No 'Melo, No Iverson (whose team didn't even make the playoffs), no problem.

In the second round, three of the four series went to seven games and the game's newest stars--players like LeBron James, Steve Nash, and Dirk Nowitzki--demonstrated that they, like their predecessors from the NBA's golden era, can play playoff-worthy basketball. In the conference finals, good basketball was on display in both series, but when it was all over, the two best teams in the league found themselves playing in the NBA Finals, which start tomorrow.

But Wilbon notes importantly that this year isn't just about the success of certain individual players. After all, the NBA has been desperately trying to fill the superstar void created in the late 1990s with the A.I.s, Vince Carters, and T-Macs. This year happened to be when the right stars on quality teams became ascendant. Magic Johnson comments that "we're back to what we used to have instead of saying 'Stay tuned for Allen Iverson versus..."

Now, he says, "it's back to the team, and the guys are great within the teams. It's great and I love it." As do I, Magic. The three top teams in the playoffs, Dallas, Phoenix, and Miami, were all more than just the one star player. Dallas was not just Nowitzki but Terry and Howard, if not Stackhouse closing out games. Phoenix wasn't just Nash (who I spent most of the past month maligning) but Bell and Diaw, if not Thomas hitting clutch late-game shots. And Miami is Shaq and Wade with a host of veterans, of whom most important is the coach, Pat Riley.

The best part of all this, I think, is that this is not a one year fluke. We may be entering a new era in basketball where the big stars and upper echelon teams are clearly identified and consistent, where we can see the rivalries and competition escalate yearly. Magic specifically mentions Dwyane Wade and LeBron James, and Phoenix, Dallas, and San Antonio. How about the Wizards (wishful thinking on my part?), who are just a big man away from the top. I think the LA Clippers (who ever thought this day would come?) also have solid potential in the near future, and a couple other teams also could be close to making the jump.

If we're right that the NBA is experiencing a revival, it' s cause for celebration. For five or six years my interest as a fan had been drifting away, until I gradually started coming back in the past two years. Part of this may be due to a revival in the Wizards' own fortunes, but the major factor is the improved quality of the league's product. Here's to a new era in the NBA.
P.S. - Finals pick: Dallas. I think I'm going to really enjoy this series and both teams deserve to win. Still, in Miami's case, Wade can wait (still "too young"), and Shaq and Riley have done it. I'm not saying they don't deserve it, because if they do win, they definitely earned it, but let's give this one to Dirk and Avery Johnson!