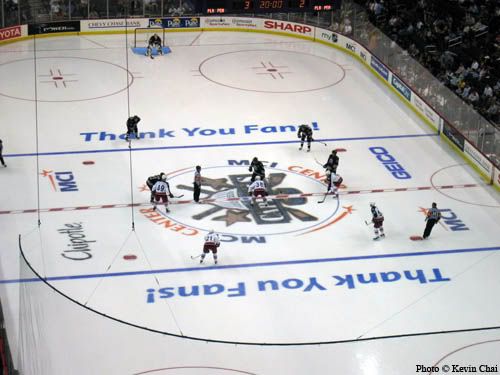 After taking a year off, the NHL returned for the 2005-2006 season this past Wednesday evening. With the lockout issues over, the focus is now on the game itself--several small but significant rule changes have been instituted--and the ability to draw fans old and new into the seats.
I was in attendance at the MCI Center in D.C. to see the Capitals take on the Columbus Blue Jackets. The league and the team appeared to be making a concerted effort to mend fences with jilted fans. A pre-game street festival on F Street featured various activities and a handful of former Capitals' players signing autographs. Inside the stadium, a scrolling marquee announced that the NHL "would like to thank you, the fans, in welcoming back" the sport. Fans were handed souvenir mini-Stanley Cups at the entrance. The players were introduced to the accompaniment of an ethereal laser-and-pyrotechnic show. And during the game, explanations of basic rules and hockey terms like "power play" on the Jumbotron were evidence that the league is desperate to attract new fans.
Old fans needn't fear the changes made to the game--a more open style of play, smaller goalie pads, no red line, end-game shootouts to break ties, etc. The product on the ice was terrific, and a reminder to all hockey fans about what we've been missing. For the Caps, young sensation Alexander Ovechkin lived up to his high billing, scoring two goals and playing physical (his first hit broke a support beam on the boards) en route to picking up "first star" honors for the game.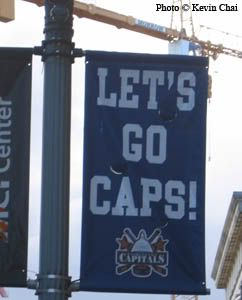 The game aside, there were still some noticeable problems that marred an otherwise terrific night. For one, and perhaps most worrisome to owner Ted Leonsis and the NHL commissioner, there were a huge number of empty seats. While the lower level and the upper level seats were pretty full, the middle "club level" ring was practically deserted. That can't be good news for a sports so recently ruined by financial peril.
Additionally, some aspects of the stadium operation showed their rustiness. Lines in the concession stands, for example, were way too long. Frustrated customers waited half an hour, only to be told that--although there were no signs posted--no credit cards were accepted in that particular line. Which meant another 20-30 minute wait in a different line. Tensions were understandably high, and soon fans were jawing at one another and at the concession workers. I was forced to watch all 5 goals scored in this game on an overhead TV screen while waiting for a $9 chicken tenders and $5 Coke.
At the end of the night though, only two things mattered. 1) Hockey's back. 2) Final score: Capitals 3, Blue Jackets 2. Here's to the coolest game on ice!