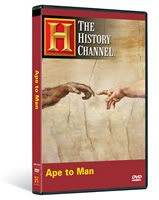 I just returned from vacation to catch my Tivo recording of the recent History Channel special
"Ape to Man"
, a terrific and timely new documentary chronicling the development of human evolutionary theory. The program covers the span of over 150 years, from pre-Darwinian ideas to the realization of man's common ancestry in Africa and the importance of the use of tools.
Rather then offering just a dry, encyclopedic recital, "Ape to Man" focuses on the chronological advancement of scientific thought on the subject. Key moments are reenacted, from the finding of Neanderthal fossils in Germany in the 1850s up through the famous discovery of "Lucy" in 1974. The scientific history is interspersed with vignettes featuring superbly costumed and cosmeticized actors dramatizing situations like hunting, fighting, and utilizing fire. This may sound cheesy, but surprisingly enough, it is all done so well and fits so neatly into the flow of the documentary as to be completely engrossing.
Any mention of evolutionary theory these days would be remiss not to notice this is a time when anti-evolutionists are gaining momentum by pushing the idea of "intelligent design". This concept has been in the news a lot as of late, drawing apparent
support from President Bush
and being touted as
an alternative to teaching evolution
in the classroom.
"Intelligent design" holds that the complexity of life is so great that it could only have been overseen by a supernatural force. There are two ways to interpret this--one, of course, is that this is just a nuanced rewording of the creationist position. In this respect, the idea of "intelligent design" is just a subtle but so far surprisingly effective assault on science and on public education. The idea of uncertainty in the current scientific viewpoint, however, is a reasonable enough idea. There is a bottomless supply of questions to which science yet has no answer. In the context of establishing a basis for scientific thought, however, the idea is fallacious.
Consider that the essence of science is a constant, millennia-old progression of our ability to understand our world. We are always striving to improve that understanding. Scientific explanations are made to the best of our ability based on the ascertained information we possess. Introducing intelligent design into the classroom does a great disservice to science, for the idea is not a scientific one. This is not a debate about whether there is or is not a God, so don't let that topic, irrelevant to the matter at hand, distract you. It's that science is not, as a letter to the LA Times recently pointed out, about points of view.
In the decades and centuries to come, we will almost certainly refine our ideas about our origins. "Ape to Man" did a great job, I thought, in showing how the "evolution of evolution" was in no way easily contrived. In addition to the requisite inspiration and perspiration, scientists had to overcome many missteps (and even
intentional falsehoods
) to arrive at the current theory of our origins. Even now, science is still trying to solve the unexplained. Intelligent design, though, can never provide any answers, and it still begs the questions of "why?" and "how?" Furthermore, the faux-security it provides cheapens the value of the rational scientific thought that is supposed to be a cornerstone of education.
Here's the beauty of science: if an idea is flawed, it will be cast by the wayside, and we will be better off for abandoning it. If the idea is tested and strengthened, then we all go to sleep feeling more confident that yet another great mystery has been solved by the might of human ingenuity. Regardless of the outcome, that's called progress. So to all challengers, bring it on!