For the past couple days, I've been playing around with
Google Earth
, the latest cool new toy offered by everybody's favorite tech wizards. Google Earth, a descendant of the Keyhole service, allows users to view satellite imagery of any part of the world. This feature, which has been around for many years, has now been integrated with data (where available) plotting transit systems, commercial enterprises, and more. A map overlay detailing schools, restaurants, hotels, and more yields extra information than just the standard terrain scan.
Google Earth is remarkably easy to use. Type in the location you're searching for, and the program automatically "flies" you to your destination in fine cinematic style. I did the requisite searches for famous landmarks (see
examples
), old neighborhoods, etc., and found the results (when data was available for the location) to be pleasing--if not practical, at least entertaining. Google Earth also tries to incorporate a three-dimensional aspect to the program, allowing users to "tilt" the landscape. While a cool idea, this feature rarely delivers results that look good without losing perspective or detail.
This morning, as I was following the details of the terrible
tragedy in London
, I decided to put Google Earth to the test to try and create a rudimentary map plotting the locations of the bombings. This proved to be remarkably easy; all I had to was type in the name of a location, say, "King's Cross Station, London", and I was "flown" immediately to the spot. By selecting or deselecting various options, I could view street names, transit stations, rail lines, and more. The resulting map I created is seen below: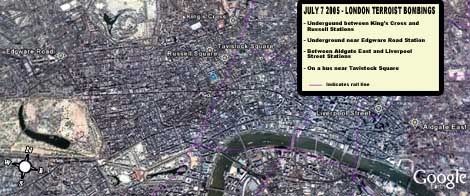 With regards to today's terrorist attacks, I think British PM Tony Blair said everything that needed to be said:
When they try to intimidate us, we will not be intimidated. When they seek to change our country or our way of life by these methods, we will not be changed. When they try to divide our people or weaken our resolve, we will not be divided and our resolve will hold firm. We will show, by our spirit and dignity, and by our quiet but true strength that there is in the British people, that our values will long outlast theirs. The purpose of terrorism is just that, it is to terrorise people, and we will not be terrorised.

I would like once again to express my sympathy and my sorrow to those families who will be grieving, so unexpectedly and tragically, tonight. This is a very sad day for the British people, but we will hold true to the British way of life.
Today is another reminder that the "war on terrorism" doesn't just take place in faraway countries. Despite all the precautions and security measures in place, our enemies can still on occasion take the war to our doorstep, with devastating results. We are reminded there is still much work ahead of us in order to ascertain a safer, more secure future.