Well, I guess we won't be needing this graphic anymore: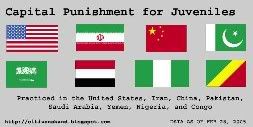 (Click to enlarge.)

"Supreme Court Forbids, 5-4, Execution in Juvenile Crime"
- Justice Anthony Kennedy (author of majority opinion):
"It is fair to say that the United States now stands alone in a world that has turned its face against the juvenile death penalty."


- Justice Antonin Scalia (dissenting opinion):
"I do not believe that the meaning of our Eighth Amendment, any more than the meaning of other provisions of our Constitution, should be determined by the subjective views of five members of this court and like-minded foreigners."


- Justice Sandra Day O'Connor (dissenting opinion):
"This nation's evolving understanding of human dignity certainly is neither wholly isolated from, nor inherently at odds with, the values prevailing in other countries."
Apparently the wiser heads on the bench took their cues from "evolving standards" and the prevailing international sentiment. Terrible controversy? No, not in this case, because I'm more comfortable with the U.S. being in line with "the rest of the world" as opposed to "Iran, China, & Co."